ABC News


Cemetery Listings

Special Internet Caskets and Pricing!
Toll free at 1-888-78-CASKET (1-888-782-2753)
Thank you! for visiting the Casket Gallery selection for Fine Wood Caskets and Metal Caskets. Simply click on a category below to view the Price, Picture, and Description for one of our fine merchandise selections!
"Click On Any Picture For More Detail!!!"
Z - Casket Plans
Casket Building Plans and a BONUS BOOK!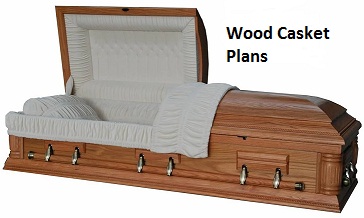 Absolutely the finest and simplest set of plans, for someone

inclined to woodworking or just handy with wood,to construct their

own casket. The personalization of making a casket for a loved one

has been reported to offer great satisfaction.

Detailed drawings and step-by-step instructions come with this

plan. You can personalize the hardware design- or order our parts

package.

This plan includes all the details you need to build the type and

style of casket shown. Let 40 years of experience go to work for

you in your shop. You receive: Full size patterns for all shaped

pieces,Detailed exploded view with Step by step instructions and a

Complete materials needed list. Elevation drawings.



This plan is recommended for intermediate or advanced

woodworkers.

Very simple instructions guide you all the way for a casket that

comes from your hand to your loved one. Personal satisfaction from

doing it yourself. Simple and economical in cost.

INCLUDED AS AN EXTRA BONUS -Do-It-Yourself Coffins for People

and Pets detailed wood construction planning book. A Complete

separate construction planning book full of ideas!

Color photos illustrate every step in creating (3)three coffins

for Pets and (3)three coffins for People. Several different box

construction techniques are revealed. Includes detailed plans.

64 pages, soft cover.

Both of these detailed construction planning workbooks are

available for immediate delivery. All the above is $59.99

ALSO AVAILABLE - Along with the wood needed to construct the

casket itself, you are required to also plan and/or purchase

several more parts to make your casket complete. Parts such as

handle hinges, lid catch, memorial tube, corner pieces in either

Nickle or Gold finish.

There is also available (but not necessary) a full Casket Bed

Frame and Hardware mechanism to raise or lower your loved one at

either end of the bed frame. This keeps the person from looking

like they have sunk to the bottom of the box. It is a personal

choice!

PRICES ARE:

Complete set of hinges, brackets, end caps and corner pieces

(either Nickle or Gold finish), Memorial Tube, Lid catch to

securely close the lids, and lid support hinges: $499.99 + $59.99

for plans and bonus Coffin book.

Parts can be purchased separately for $499.99. If you decide to

PURCHASE BOTH TOGETHER - CASKET PLANS PACKAGE PROVIDED FREE

Casket BED FRAME and Lowering/Raising Mechanism: $499.99 by

itself. Shipping is extra and depends on your location.

SPECIAL PACKAGE PROGRAM: You receive All the Parts Package,

plus the Casket Bed Frame package, and the FREE Casket Plans and

free Bonus book of Do-it-Yourself Coffins for just $499.99! Save

almost $60!

*Shipping for all is a separate charge & quoted upon shipment and

based on delivery location.



Advanced Beginners or Craftsman - order now & and get started

right away. Regular delivery USPS postage is included in the

price. Overnight shipping available for an additional $20. (For

plans & book only)

Parts package shipping is separate charge. Call us now at 1-800-

550-7262 for answers to your questions!
(Product Code CSKPLNS) $59.99
---
Shipping charges are extra, and vary based on time of need for delivery and area of United States. Most shipments are "door to door" per your instructions - usually to the funeral home you have chosen. The funeral home can NOT require you to be present upon delivery, but you may wish to monitor the delivery time and have them verify the arrival and condition. All caskets are guaranteed to your satisfaction.


Casket Gallery Showrooms has literally 100's of casket styles available either in wood, metal, copper, bronze, or stainless steel. If you have a particular model or design you are looking for, simply contact us for a price quote. Custom caskets can be made in metal with 72 hours notice. Custom wood models are available in selected styles and species. Just call us first!


Call Us 1st!!!
Toll Free Nationwide Number
www.casketgallery.com
1-888-782-2753

---
Web Development & Maintenance by Gray Hat Web