ABC News


Cemetery Listings

Special Internet Caskets and Pricing!
Toll free at 1-888-78-CASKET (1-888-782-2753)
Thank you! for visiting the Casket Gallery selection for Fine Wood Caskets and Metal Caskets. Simply click on a category below to view the Price, Picture, and Description for one of our fine merchandise selections!
"Click On Any Picture For More Detail!!!"
Wood Caskets - VENNER
Poplar PIETA with Red Walnut with ECO wise VENEER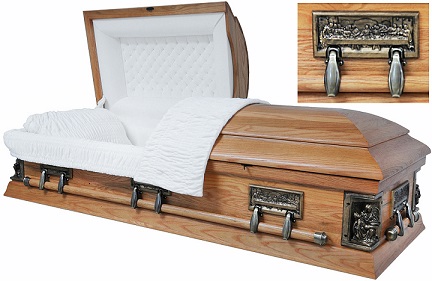 SPECIAL PRICE AVAILABLE NOW! Do NOT miss this special price for

a selection the Funeral Home would charge at least $3000 for.

REGULAR PRICE IS $1599!

Quality made, introductory price promotion! 1-800-550-7262

If you are conservation minded,or your loved one was, this is the

perfect casket to select. Made from completely recycled wood

shavings and processed to be as strong, if not stronger than any

all wood casket except Walnut and/or Ironwood!

Along with that, the outside is a true wood veneer, stained and

polished to have the appearance of a solid wood casket! Many

people are buying these not just because of price, but beauty!

The classic choice & selection by families wishing to remember the

divine and spiritual aspects of their loved ones life - The Pieta!

CALL NOW FOR ANSWERS! 800-550-7262

Specie: POPLAR Veneer with Honey Red Walnut finish

NOTE - photo shows the finish lighter than actual color.

Design: Cast Last Supper sides & Cast La Pieta corners, swing bar

Interior: Champagne Velvet tailored over an adjustable bed

Exterior: high gloss finish

Panel: Full Sunray Panel

Size: full 24inch width interior, standard sizes, up to 350 lbs

Bed: Fully adjustable at both the foot and head end

Standard shipping (from 1-5 days depending on location)

is only $125-$175! If you wish Overnight or Rush Delivery, call

for quotes.

Call us at 1-800-550-7262 for answers to your questions!
(Product Code HV9312) $1399.99
---
Shipping charges are extra, and vary based on time of need for delivery and area of United States. Most shipments are "door to door" per your instructions - usually to the funeral home you have chosen. The funeral home can NOT require you to be present upon delivery, but you may wish to monitor the delivery time and have them verify the arrival and condition. All caskets are guaranteed to your satisfaction.


Casket Gallery Showrooms has literally 100's of casket styles available either in wood, metal, copper, bronze, or stainless steel. If you have a particular model or design you are looking for, simply contact us for a price quote. Custom caskets can be made in metal with 72 hours notice. Custom wood models are available in selected styles and species. Just call us first!


Call Us 1st!!!
Toll Free Nationwide Number
www.casketgallery.com
1-888-782-2753

---
Web Development & Maintenance by Gray Hat Web