ALSO AVAILABLE - Full size adult Soaring Free Marbel/Pewter Urn. Size in 15"x9" and holds up to 230 cu inches of cremains. Unbelievable in beauty and in price for just $479.99. PACKAGE PRICE For both the Adult size and keepsake urn, receive them together for just $649.99! Standard shipping is included in the above prices. Overnight or 2-3 day shipping is available for an extra charge.">

Toll Free Number
1-888-782-2753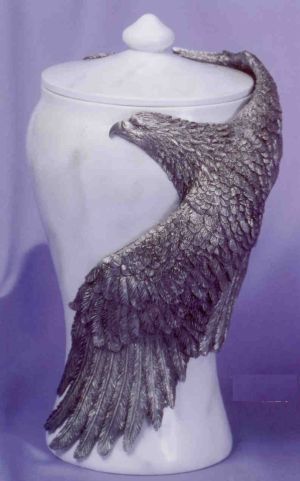 Soaring Free Marble-Pewter Keepsake Urn
Description :This majestic pewter eagle has outstretched wings that embrace the sides of this beautiful urn. Breathtaking it stands a full 8 1/2" high is 5 1/4" wide and has a capacity of 70 cubic inches.

Just perfect for a keepsake of someone special in your life.

ALSO AVAILABLE - Full size adult Soaring Free Marbel/Pewter Urn. Size in 15"x9" and holds up to 230 cu inches of cremains. Unbelievable in beauty and in price for just $393.97.

PACKAGE PRICE For both the Adult size and keepsake urn, receive them together for just $499.97! Save!

Standard shipping is included in the above prices. Overnight or 2-3 day shipping is available for an extra charge.

| | |
| --- | --- |
| Typical Price: | $499.88 |
| Our Price: | $199.97 |
Back


OR

Fax Method : Order by Fax

---
Web Development & Maintenance by Gray Hat Web