NOTE - custom lid panels available for just $95 more! Almost no limit to the designs we can provide - military, religious, outdoors, mother & father, written phrases or scripture, etc, etc.">

Toll Free Number
1-888-78-CASKET (1-888-782-2753)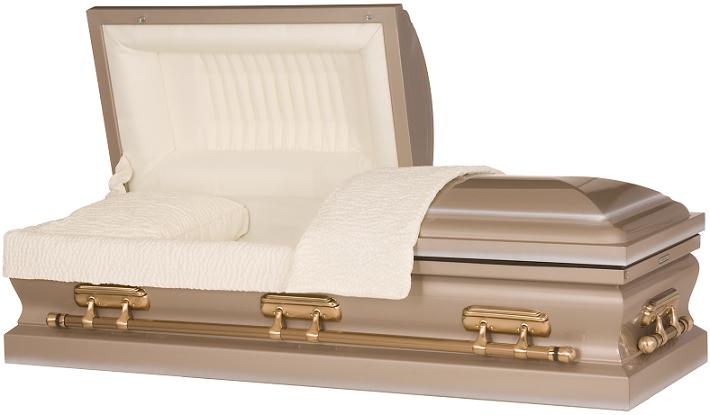 Crown Metal Casket
Description :
Proudly Made in America with top quality craftmanship! Call us at 1-800-550-7262 for answers to your questions.

Fine 18ga steel is used to make this fine selection. Finished with a Colonial Beige and White shade, the Gold highlights of the hardware compliment the appearance to provide a touch of quiet elegance.

Full adjustable bed and tailored completely with an EggShell Frost crepe. The panel is finished with a \"Shirred Rolls & Pipe\" design and the swing bar handles allow easy carrying by the pall bearers. The casket has a locking mechanism along with a complete gasket.

Standard shipping (from 2-5 days depending on location)
is only $100! If you must or want Overnight or Rush Delivery, it is available for an additional charge of $350.

Call us first to verify your order once completed. Please be ready to provide a ZIP CODE for the delivery information.

Call us at 1-800-550-7262 for answers to your questions!

NOTE - custom lid panels available for just $95 more! Almost no limit to the designs we can provide - military, religious, outdoors, mother & father, written phrases or scripture, etc, etc.
| | |
| --- | --- |
| Typical Price: | $3999.97 |
| Our Price: | $1299.97 |
Back
---
Please read our terms and conditions before order:
OR

Method #2 : Order by Fax

---
Web Development & Maintenance by Gray Hat Web