Features: EXTERIOR: 84.6" L X 28.5" W X 22.8"H INTERIOR: 78"L X 22.25"W Hand-Rubbed High Gloss Finish " Color Memory ™" Stained Color Glass available in: A. Rose Bouquet B. Flying Dove C. Garden of Eden Tree of Life D. Cross and Red Roses E. Asian Lotus F. Florentine F. Garden Lily Reference to the Color Memory Stained Glass casket product item to select the best choice for you and your loved one. Red Mahogany Stain Solid wood Bars End Handles Adjustable Bed and Mattress Swing Bar Hardware (Bronze) Memory Date Record Tube Teakwood Spring Bed Riser Wrench Box White Goose velvet Beaded Spread Full Lining and a Tailored Pillow Standard shipping (from 2-5 days depending on location) is only $100! No other charges. If you wish Overnight or Rush Delivery, it is available for an additional charge of $350. Call us first to verify your order once completed. Please be ready to provide a ZIP CODE for the delivery information. Call us at 1-800-550-7262 for answers to your questions!">

Toll Free Number
1-888-78-CASKET (1-888-782-2753)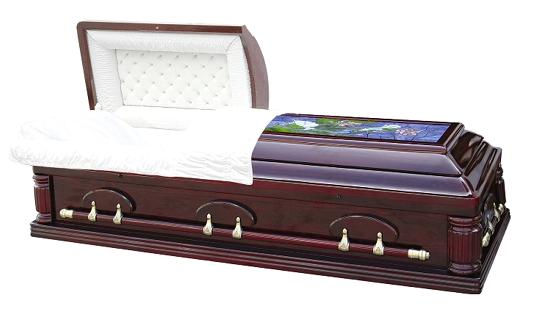 Stained Color Glass Teakwood Casket
Description :
Exclusive and Patented Color Memory casket design that is just
breathtaking when seen in person. Fine Teakwood casket stained
with a Dark Mahogany gloss finish. The Stained Glass top displays
its color and beauty like nothing else you have ever seen!

The casket has a Full Velvet interior with both the Head lid and
Foot lid finished and tailored. May be used as a full couch casket
if desired. Full casket blanket, extra pillow and overlays
complete the design.

Features:
CASKET EXTERIOR: 84.6" L X 28.5" W X 22.8"H
CASKET INTERIOR: 78"L X 22.25"W
Hand-Rubbed High Gloss Dark Mahogany Finish

" Color Memory ™" Stained Color Glass available in:

*Rose Bouquet, *Flying Dove, *Garden of Eden Tree of Life, *Cross
and Red Roses, *Asian Lotus, *Florentine, or *Garden Lily

FEATURES
Solid Teak wood Construction
Dark Red Mahogany Stain
Solid wood Bars

Adjustable Casket Bed and Mattress
Swing Bar Hardware
Memory Date Record Tube
Teak wood Spring Casket Bed Riser Wrench Box
Light Champagne velvet Beaded Spread
Full Lining and a Tailored Pillow

Standard shipping (from 1-5 days depending on location)
is only $150! No other charges. If you wish
Overnight or Rush Delivery, it is available
for an additional charge.

Call us at 1-800-550-7262 for answers to your questions!
| | |
| --- | --- |
| Typical Price: | $9999.97 |
| Our Price: | $2499.97 |
Back
---
Please read our terms and conditions before order:
OR

Method #2 : Order by Fax

---
Web Development & Maintenance by Gray Hat Web